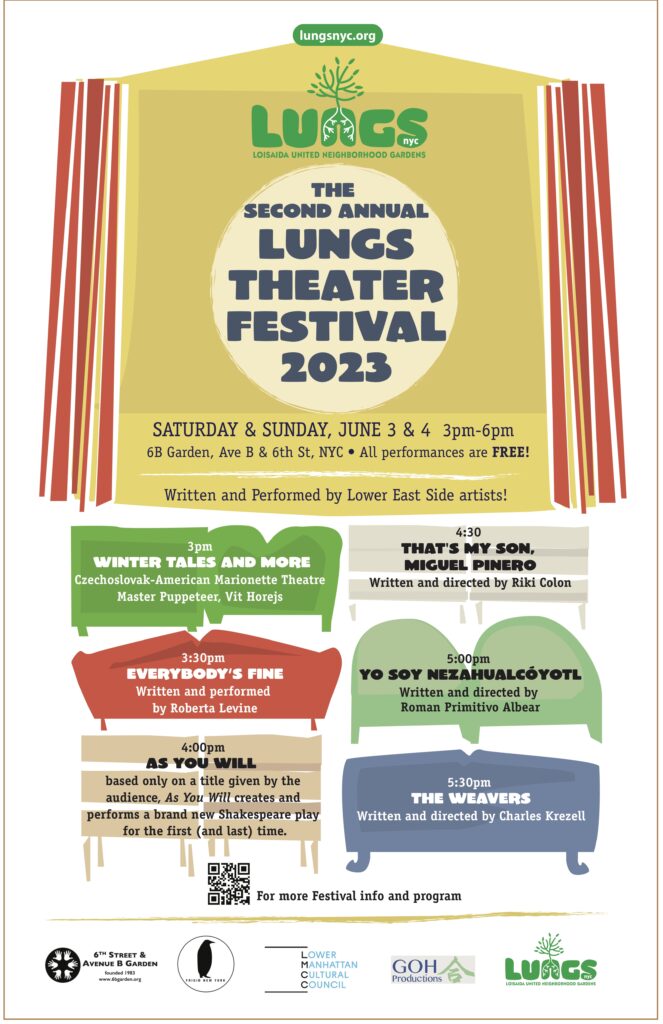 The 2nd Annual LUNGS Theater Festival 2023
The LUNGS Theater Festival 2023
Second annual Festival featuring performances by Lower East Side artists!
SATURDAY, SUNDAY, JUNE 3, 4 | 3pm-6pm
6B Garden, Ave B & 6th St, NYC
Program LUNGS TF23 2b.indd
Special thanks: all the folks at 6B Garden, Sally Young, Rina Root,
Amy Berkov, Theresa Linnihan (backdrop), Vanessa Cabrera and GreenThumb.
The 2nd Annual LUNGS SUMMER Theater Festival is curated by Erez Ziv, Riki Colon, Roman Primativo Albear, Bonnie Sue Stein and Charles Krezell.
Produced in collaboration with LUNGS, FRIGID NY and GOH Productions.
Supported in part by Lower Manhattan Cultural Council
3pm
WINTER IN THE SUMMER
Czechoslovak-American Marionette Theatre
With antique marionettes, performed by Master Puppeteer, Vit Horejs
with Tine Kindermann (saw) and Susan Huang (voice, etc)
To provide respite from the upcoming heatwave, Vít Hořejš performs a Czech folk tale drama that unfolds during the furiousest blizzard of the Mid-Winter night (in English, no subtitles). The story is replete with (East) Village Characters, babies, children, teenagers, oldagers, street dancers and virtuoso multi-instrumentalists who speak and sing in dozens of voices, dance, play violin, swim and fly. A native of Prague, Vit emigrated to the US in 1979. In 1990, he found a trove of large antique marionettes in the attic at Jan Hus Church on East 74th Street, in the heart of the once-upon-a-time Czech and Slovak neighborhood and founded Czechoslovak-American Marionette Theatre in NYC, and has lived in the the once-upon-a-time Czech and Slovak Lower East Side since 1980.
TINE KINDERMANN (musical saw) is a visual artist and musician from Berlin, Germany, who has been living and working in the Lower East Side since 1993. As a singer and musical saw player, she performs German folk songs, released under the title "schamlos schön" ("shamelessly beautiful") in 2008 by Oriente Musik OHG, and available for download on Amazon. She performed some of the songs with Iggy Pop in Love and Death in the 2009 Century of Song Festival under the artistic direction of Marc Ribot. Villa Delirium, a New York-based quintet playing mostly original new folk music, was founded by Kindermann and John Kruth and includes Doug Wieselman, Kenny Margolis and Steven Bear. www.tinekindermann.com
SUSAN HWANG is a singer/songwriter and multi-instrumentalist who has toured internationally performing music and theater. She is the founder and director of The Bushwick Book Club ––an international musical/literary crossover event and podcast. Lusterlit is her musical duo with songwriter/producer Charlie Nieland, and they refuse to play anything but songs about books. Susan plays accordions because they are pretty and lighter than pianos (barely). She plays drums because it's healthy for a girl to hit things. susanhwanglalala.com, lusterlit.com, IG: @soozee3, IG: @shwangsong, IG: @thebushwickbookclub
3:30pm
EVERYBODY'S FINE
Written and performed by Roberta Levine
Directed by Dan Crozier
Writing Consultant: Etja Ruth
Roberta Levine will perform an excerpted chapter from her family-based novel, Everybody's Fine. The novel's Chapter 10 explores a moment in the lives of Cora and Frankie when they're forced into a life-altering decision.
Author Roberta Levine worked as an actor and solo performing artist for many years in NYC, appearing at iconic downtown venues Dixon Place, PS 122, La MaMa, St Mark's Church, and others. Since then, she's slid down the coast to Philadelphia where she writes in a hundred year old row house.
4:00pm
AS YOU WILL
Shakespeare as never seen before and never to be performed afterwards.
Creators: Conor D Mullen, David Brummer, and George Hider
Performers: Conor D Mullen, Zev Hurwich, Michael Luca, Allison Furlong, David Crozier
Image: LINK to a folder of show images.
Friends, foes, fools! Do you ever bemoan the fact that the 884,647 words William Shakespeare wrote have been performed already? Do you yearn for the experience of seeing The Bard's works for the first time? Then celebrate the glad tidings of As You Will and our Unscripted Shakespeare Show! These Shakespearean Scholars are here to present all the monumental works the immortal Bard would've written if he hadn't gone and died. With just the title given by the audience the players of As You Will bring a Shakespearean comedy to life complete with Shakspeare's themes, language, poetic verse, and some scholarly footnotes thrown in for good measure. As You Will have performed such classics as "Eight Merry Spiders," "That Doth Not Go There," "1601: A Space Odyssey" and though those shows will never be seen again, there's always a Shakespearean world premiere in our makeshift Globe Theatre.
4:30pm
That's My Son, Miguel Pinero (new play staged reading)
Written and directed by Riki Colon
Performed by Samuel Flores as Miguel Pinero and Teresa Reese as Adelina Pinero
A new play based on the relationship, Miguel Pineiro had with his mother Adalina Pineiro. Miguel Pinero (1946 – 1988), was co-founder of the Nuyorican Poets Cafe and author of the award winning play, "Short Eyes".
Riki Colon is co-founder of the Howl Festival, former Creative Director at Howl Arts Inc, Former director of operations at L.E.S. Girls Club
5:00pm
Yo soy Nezahualcóyotl
Actors: Andrés Gallardo Bustillos, Miguel Loyola, Leí Zhou
Dancer: Annette Buesaquillo-Voll (woman warrior Aztec Dancer)
Costumes: Everett Clark |Music: Nafeez | Makeup: Ahda Hann
Director: Roman Primitivo Albear
Playwrights: Roman Primitivo, Miguel Loyola
Nezahualcóyotl, Texcoco's ruler, wakes up in a strange place as a young person. Animal spirit guides reveal a battle awaits him. Remembering his life and guidance, he embraces his legacy and chooses to fight. Nezahualcóyotl defeats Lord Pakal and Lord Mictlantecuhtli in a ball game. Celebrating his legacy, he recites profound poems expressing his love for nature and humanity.
Carmelo Roman Albear is a Mexican-national and self-taught artist with a strong focus on theater and artistic painting. His artwork has been exhibited at renowned galleries such as ABC No Rio, Zito Gallery, Jonathan Short Gallery, Le Jungle Gallery, and Theater for the New City Gallery, and is highly regarded in private collections. From 2012 to 2022, Roman directed, produced, and wrote six plays performed at Theater for the New City and Under St Marks Theater. His dedication and creativity earned him the prestigious Kathy Acker Award for Theater in 2018. Currently, Roman is actively involved in various exciting projects. He is working on a captivating documentary that explores the Rivington School, an influential 1980s art collective located on the Lower East Side. Additionally, he is engaged in documenting the vibrant performance space, No Se No, through his collaboration with photographer and artist, Toyo Tsuchiya. 
In 2020, Roman completed a documentary short highlighting the innovative 3D sculptures of Linus Coraggio, merging both old and new footage. Moreover, he is currently immersed in creating a socio-documentary that reflects his experiences working in a Roma wine spirit during the challenging times of the COVID pandemic.
Roman Carmelo's resume showcases his exceptional talent as an artist, his significant contributions to the theater world, and his commitment to capturing the essence of diverse artistic communities through his documentary work.
Miguel Loyola (Mexico). Director, playwright, curator and actor. El Centauro Macánico is the theater company he founded 15 Years ago. It is focused in community theater and location projects. 
Andrés Gallardo Bustillo (SDC Member) is a Colombian director, choreographer, performer, and educator based on the unceded lands of the Munsee Lenape, the Canarsee, the Wequaesgeek and the Siwanoy  otherwise known as New York City.  Currently Founding Co-Artistic Director at Proscaenium Theatre Company. Formerly, Andrés served as the Co-Artistic Director at The Phoenix Theatre (PA). He has worked with theatre companies and organizations such as Broadway Advocacy Coalition, Columbia University's Center For Institutional and Social Change, Out of the Box Theatrics, Misi Productions, and Teatro SEA, and has served in the Board of Directors at The Phoenix Theatre (PA), Proscaenium Theatre Company and Arts Culture Jawn.
Allen Lei Zhou Skills: Actor, Videographer, Photographer BFA in Acting from Brooklyn CollegevCertificate in Directing (one-year study) Studied at HB Studio since 2003. Completed 3-year full-time study in acting, directing, speech, singing, movement, mime, and stage combat (2003-2006). Studied under Prof. Austin Pendleton since 2004. Performed in productions directed by Prof. Austin Pendleton Awarded Outstanding Performance at the 2015 Lower East Side Festival of the Arts for portrayal of Dr. Naguchi in "Dr. Naguchi" directed by Crystal Field Provided bilingual voice-overs (Mandarin and English) for TV commercials, documentaries, and the award-winning movie "Saving Face" Worked on commercials for Tri-Honda (2014 & 2015) and Colgate. Directed and performed sketch comedies for Low East Side Festival of the Arts since 2004. Directed the independent short movie "The Rekindling" (2018) with award-winning playwright Joe Davidson, winning Best Screenplay and handling cinematography. Invited to direct Joe Davidson's new musical movie "Solitude" and serve as  videographer 
Ahda Hann is a DIY artist with a background in performance works, voice and movement, poetry , spoken word and visual arts . Her skin painting arts were cultivated in New Orleans where she lived before relocating to NYC in 2006.
Everett Clark was born in Costa Rica He raised in New York. He attended the Fashion Institute on Technology. Were he did multidiscipline course work. He been a guess lecher on Costume design and Fiber arts at FIT. His work has been featured on film and stage plays through out New York City. Some of his recent credits include: WERE DO ALL THE GHOST GO, Women Behind Bars, Awake, Nuclear Follies, Dress Of Fire, Verzet Amsterdam, City Girls and Desperadoes, APPENDAGE, YOUR NAME ON MY LIPS, GHOST LIGHT, EMANSAPATION, MAAFA, RESERRECTION, STREET THEATER 16, THREE MILES, STREET THEATER 15, WOMEN OF THE WIND and MULA JR. Film credits DESI SHAKESPEARE (Filming) THE GARDEN LEFT BEHIND (2016) TANGO SHALOM (Filming), FISTS OF LOVE (2014), 36 SAINTS (2013) and HIP HOP HIGH THE MUSICAL (Video)(2010). E-mail clark460@gmail.com
5:30pm
THE WEAVERS
Written and directed by Charles Krezell
An absurd web of stolen threads and borrowed songs from the Triangle Shirtwaist Tragedy and the struggles of the Iranian women strung together with the pain of Gaia.
Performed by Owen Engesser, Kate Goorland and Shabbi Sharifi.
The Iranian song performed "Baraye" is by Shervin Hajipour, an Iranian singer, arrested two days after the song was initially published. Special thanks to Susan McKeown for her musical guidance and Sally Young for her machinations.
Owen Engesser (he/him) is a New York City based actor. He is a graduate from the Savannah College of Art and Design with his B.F.A in Performing Arts. Past credits include Sam in Mr. Burns and Doug in Gruesome Playground Injuries. You can see him perform monthly at the Players Theater with the improv group 'Pie Town'. Owen is thrilled to help share this story, and he wants to thank Charles for his writing and for bringing this production together.
Kate Goorland is an actor, improviser, and writer in New York City. She performs comedy and theatre throughout the city. She has hosted several shows with the LUNGS association and is excited to be part of this year's theatre festival.
Charles Krezell is president of LUNGS. He has lived in the NYC since 1983. His work has been performed at the BACA Dowtown, workshop at the Public Theater, Greenwich St Theater, and "Nadine's on Washington St and the West Bank Cafe.
He has made numerous documentaries, many focusing on the Presidential change of power in this country.
2001, "Not My President" the inauguration of George W. Bush https://vimeo.com/828859011?share=copy
2004 "Medium Hot" a Meta doc on the Republican Convention in NYC https://vimeo.com/385678528?share=copy
2008 "Bigger than the Beatles" Obama and the Peeps. https://vimeo.com/385744230?share=copy
2016 "The Deplorables & The Despicables" Trump comes to DC https://vimeo.com/451637491?share=copy
2020 "Biden Time" Biden's Turn https://vimeo.com/547202383?share=copy
---
The 1st Annual LUNGS Theater Festival 2022
LUNGS SUMMER THEATER FESTIVAL UPDATED SCHEDULE 2022

Saturdays, June 4 & 11, 2022 2-7pm 6B Garden, Ave B & 6th St, NYC 12pm SHOW UP, KIDS!Written by Peter Michael Marino & The KidsDirected By Michole Biancosino & The KidsThis fresh twist on the traditional kids' show blasts off into unknown comedy zones when Pete enlists the Audience to help write, design, and …

Continue reading