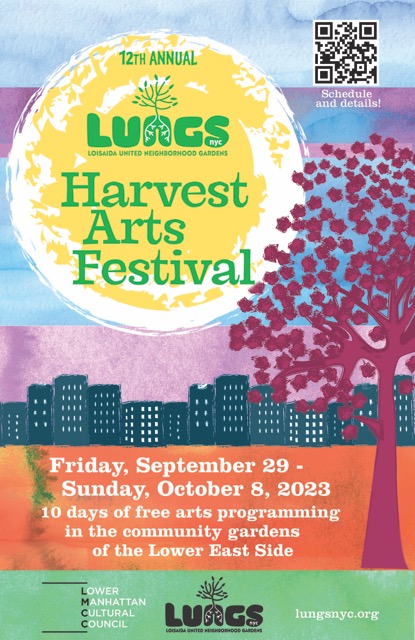 2023 Festival — 12th Annual LUNGS Harvest Arts Festival
Friday, September 29 – Sunday, October 8, 2023
Festival Opening Night Party at La Plaza
Friday, September 29, 2023, 6:30 pm
Details >>
Outline of All Activities — quick OUTLINE & DIRECTORY of events, go here.
Entire Schedule — detailed version with all of the descriptions, flyers, and images, go here.
THANKS to all of our sponsors, supporters, contributors, participants, and volunteers.
Interested in contributing, performing or volunteering with the 2023 Festival? Email info@lungsnyc.org or contact us online.
---
LUNGS Harvest Arts Festival – Ten Days of Celebration
Since 2011, the LUNGS Harvest Arts Festival has been closing out the community garden season with a multi-day celebration of art, music, poetry, puppets, workshops, theater, opera, dance, spoken word, drag performances and fun! And it's all FREE!
---
---