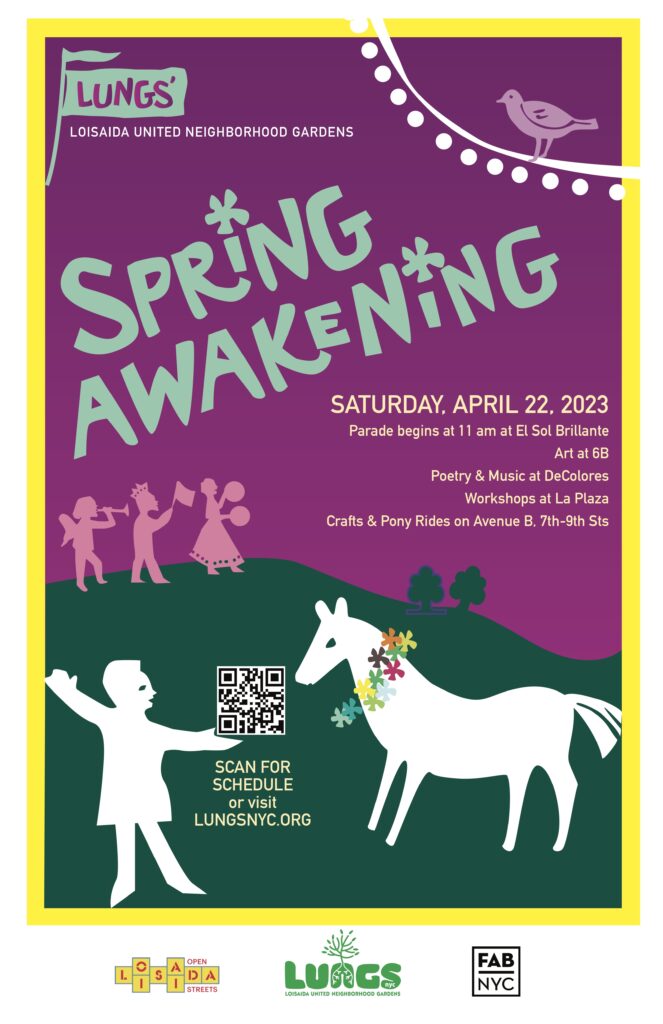 SPRING AWAKENING kicks off with our parade led by BATALA, through the Streets beginning at 11am at El Sol Brillante, 522 E. 12th St between Aves A & B, walking east to Avenue C, south on Avenue C to E. 7th St, west on 7th to Tompkins Square Park, meandering through the Park and ending at Avenue B and 9th St.
Avenue B & 8TH ST

1 PM FREE Pony rides, WITH CHARLIE AND NUGGET

PLEASE sign the pony ride waiver to saddle up

Toy Makers workshop

BRING Your old and broken toys and make them into new.
Sonny & Sara reinvent timeless characters and cherished heroes into new, one-of-a-kind friends and legends. You are invited to get creative and build your own creations out of up-cycled toys!

2pm Hawk Nest Tour with NYC Park Rangers Rob and Grant, meet at 8th St & Ave B
In the GARDENS

DeColores, 313 E.8th St btwn Aves B & C

2pm Poetry

with Eileen DOSTER and friends

Music

3pm Victor & Carmine and friends

4pm "FAITH" with Felice Rosser

5pm Kid Java

6B GARDEN, the corner of Avenue B & 6th St

1 pm Let's make Art!!

Outside on garden fence Art around the Garden, we provide canvas 

La Plaza Cultural, the corner of Avenue C & 9th St

12-3pm Earth Celebrations Climate Solutions Mural Workshop

Crafts from Campos Garden

GreenThumb bringing us the Goods

Loisaida Center Ecolibrium Project

1 pm Wendy Brawer's Green Infrastructure Tour

1pm time's up Bike repair class

2pm time's up garden tour bike ride

4pm time's up free sailing school
PLUS in Conjunction with
the Earth Month convergence!!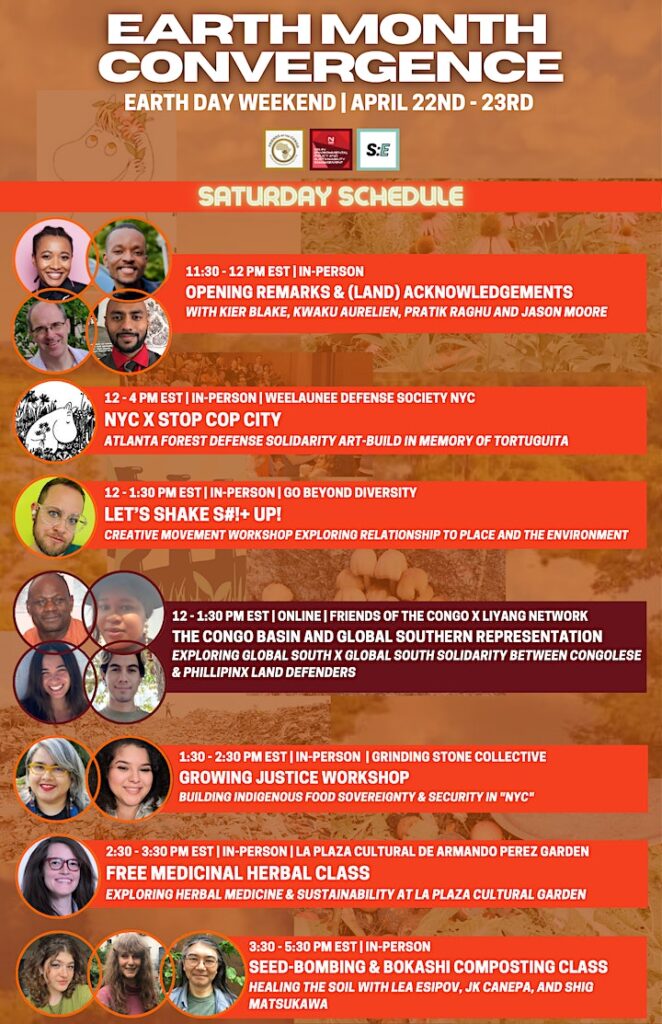 11th Street Community Garden, 422 E.11th St, Between First Ave & Ave A
3-7pm MUSIC
Gina Healy & James Tilson
Coby Petric