Story Telling
7 pm Moved to 3 pm Saturday, October 15.
DeColores Community Yard and Cultural Garden, 311 E 8th St (between Ave B & C).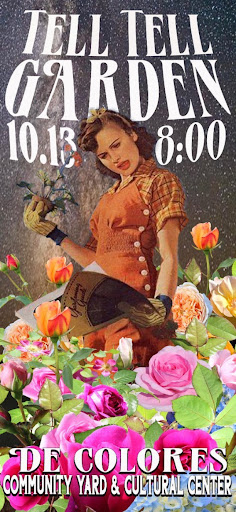 "Tell Tell Garden" presented by Kate Gorland
---
Films
7 pm Moved to 7 pm Friday, October 14.
Campos Community Garden, 644 E 12th St (between Ave B & C). 
Four short videos from Campos Garden & Cuala Foundation's 2020 "Samhain" (SOW-en) event exploring the dark feminine roots of Halloween and other indigenous LES cultures (Native, Taino, Arawak, Afghan, Thai etc.).
Videographer: James Higgins.
Editors: Jacob Swartz and Jacob Weisblatt. 
Also, a rare opportunity to see Rachel Amedeo's Lower East Side classic "What About Me?" about a young woman who becomes homeless on the streets of Manhattan. (1993 B/W 1 hour 27 min)
---