LUNGS Harvest Arts Festival
CANCELED BY THE WEATHER!!
PArty on SaTurDay Sept 30
Friday Night Opening Party
at La Plaza Cultural de Armando Perez Community Garden, 9th St & Ave C (southwest corner)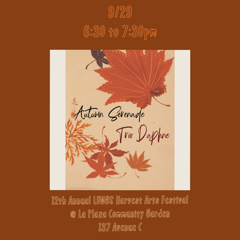 Fri 9/29, 6:30 pm.Moved to Sat 10/7 Campos 5 pm. Trio Daphne [La Plaza Campos]
With Rie Yamaguchi-Borden (b) Steve Nelson (g) and Reid Taylor (b) will visit sentimental jazz standards for intimate Autumn Serenade with some uplifting swing numbers in the beautiful La Plaza Community Garden.
---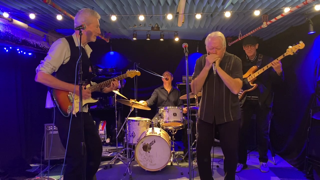 Fri 9/29, 7:30 pm.Moved to Sun 10/1 Green Oasis 8 pm. KID JAVA [La Plaza Green Oasis]
KID JAVA is a NYC‑based band that plays "Blue Note Americana", ie., music that is deeply indebted to the blues, but mix it up with other rootsy genres and often with a contemporary feel. Sometimes we'll play a down-home traditional blues, other times more swing-oriented material, and then there is the New Orleans second-line or funk tune thrown in to keep things lively. KID JAVA has shared bills with such blues greats as Albert King, Otis Rush, Pinetop Perkins, and Johnny Copeland.
---
Siempre Verde Garden, 181 Stanton St (between Clinton St & Attorney St)
The SuKKOT! Will go up — sit under the sky until October 15. [Siempre Verde]
---